I've got a Granmarc dobok of ITF Taekwon-Do. During the purchasing process, I've noticed that the sizing of Granmarc is slightly different from other branded doboks I own, such as Top Ten or Hugo Sport (Hugo discontinued their ITF line as of now though, just in the case).
So here is the size chart of Granmarc dobok, based on its package and some retailer's site.
Size
(in Number)
Size
(in Char)
Height
(in cm)
1
10
120
2
12
130
3
14
140
4
16
150
5
S
160
6
M
170
7
L
180
8
XL
190
9
XXL
200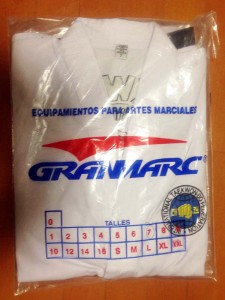 I inquired Grandmarc via email which size is good for in-between height, their recommendation was; 165cm for size 5 and 175cm for size 7. I guess it is a 'safer size'.
In my case (height: 178cm, weight: around 70kg, waist: 31inch), size 7 is a bit roomy though, the length of the pants goes pretty good. I assume if I choose size 6, the length may be a little bit short for me. Anyway, the choice depends on your taste, so if you have chance, I strongly recommend you to try it on before you buy it.
Hope it helps!